Unlocking the Secrets of Laundry Symbols: Your Go-To Resource in Morrisville and Huntington Park
Laundry symbols on clothing tags can often seem like a cryptic code, leaving you confused about how to care for your favorite pieces without ruining them. At Laundry Zone, we understand the confusion these symbols can cause. That's why we've put together this comprehensive guide to help you decode these laundry hieroglyphics, ensuring your clothes receive the care they deserve. Whether you're in Morrisville or Huntington Park, our expertise extends to every corner.
Understanding Laundry Symbols: Decoding the Basics
Laundry symbols are designed to provide quick and easy instructions on how to wash, dry, bleach, and iron your clothes. Here's a breakdown of some common symbols you might encounter:
Washing Machine Symbol: Depicting a tub filled with water, this symbol tells you whether an item can be machine-washed and the recommended water temperature. You'll want to look for a laundromat that knows the importance of accurate water temperatures for different fabrics.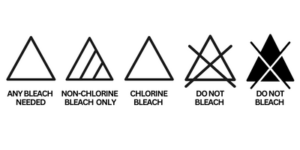 Bleach Symbol: A triangle indicates whether chlorine or non-chlorine bleach can be used on the fabric. No symbol means bleach should be avoided. Bleach can be tough to navigate, and we're here to be your local expert on fabric-safe bleaching methods. We ensure your clothes receive the right treatment.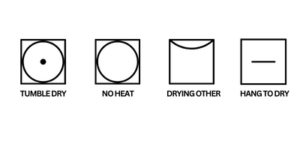 Tumble Dry Symbol: This symbol shows whether machine drying is safe and suggests the appropriate heat setting or indicates if line drying is better. In Pennsylvania, it's common to experience damp weather, which is why it's important to understand proper drying techniques.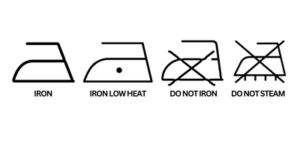 Ironing Symbol: The iron symbol signifies whether ironing is allowed and the recommended temperature settings. Our experts know how to handle delicate fabrics that require gentle ironing. We're the go-to choice for fabric care.
Navigating Fabric Types: Tailored Care for Different Materials
Now that you can decipher some of the most common laundry symbols, we'll explore how to care for specific fabrics to make the most out of each piece: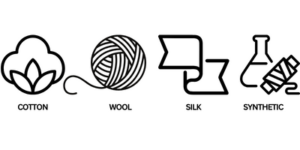 Cotton (C): A widely used fabric, cotton is generally machine washable. Opt for a gentle cycle for delicate cotton items. At Laundry Zone, we ensure that your cotton garments receive the right wash cycle for longevity. This is ideal for keeping items like cotton flannels soft.
Wool (W): Wool garments need extra care. Hand wash or use a gentle machine cycle with cold water. In colder climates, wool is a staple. Our laundromat understands the need for specialized care.
Silk (S): Delicate silk items should be hand-washed in cold water. Avoid wringing and lay flat to dry. At Laundry Zone, we cater to the unique needs of delicate fabrics in Morrisville and Huntington Park.
Synthetics (S): These fabrics can usually be machine washed. If possible, opt for a gentle cycle with lukewarm water to extend their lifespan. The optimal cycle for synthetics in changing seasons can differ, and you can count on us to handle these fabrics with care.
Expert Care Instructions for Common Fabrics
Now that you're familiar with the symbols, let's delve into proper care for various fabrics you might encounter:
Cotton
Machine wash in warm water (40°C or below).
Tumble dry on medium heat.
Iron on high heat if needed.
Wool
Hand wash in cold water or dry clean.
Reshape while damp and lay flat to dry.
Synthetics (Polyester, Nylon, etc.)
Machine wash in cold water.
Tumble dry on low heat or hang to dry.
Use a low-temperature iron if necessary.
Silk
Hand wash in cold water.
Avoid wringing; gently press out water.
Iron on low heat or use a steamer.
Denim
Machine wash in cold water.
Tumble dry on low or hang to dry.
Iron as needed.
Ready to Make Your Life Easier?
With this comprehensive guide, you can confidently care for your clothes, knowing that you're taking the best steps possible. From cotton to silk and everything in between, we've got your back. Experience expert care no matter what at Laundry Zone. We can even wash and fold your laundry for you. Your clothes deserve nothing less than the best. If you ever find yourself in need of professional fabric care, Laundry Zone is here to help.