Getting back into the swing of things can be quite the challenge as the new school year begins. Balancing your work and home schedules on top of the craziness that comes with your kids' schedules is no small task. At Laundry Zone, we want to do our part by helping you manage your family's laundry needs during this busy time of year. Let's take a look at a few tips that will help you conquer your laundry needs this Fall!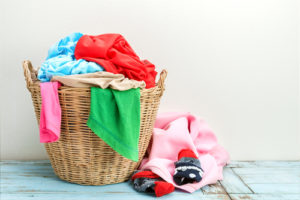 Establish a Schedule
As we previously mentioned, there are many schedules you have to balance as a parent. It can be hard to keep track of the various schedules in your household, but establishing a routine can be a huge help when managing the laundry needs of your family. By scheduling a day to take care of the family's laundry, you will make sure that your kids have clean clothes to get them through the week. For example, if you make Saturday or Sunday laundry day, you will be able to plan the week ahead to make sure the kids have a clean outfit for each day!
Don't Fear Stains, Attack Them!
Stains can be a nightmare, but they don't have to be! If your kids are active and make your laundry routine a fight against stains, try these simple tips so stains don't stand a chance!
Pre-soak– pre-soaking stained clothing in warm water for 30 minutes before washing will keep the stain from settling in clothing. For bleach and grass stains, add a powdered detergent containing enzymes to enhance soaking effects.
Pretreat– applying a stain remover after soaking will break down the stain. Stain removers contain a solvent a solvent is a fluid that dissolves another chemical. Stain removers are more effective on water based and oil based stains.
Wash normally– Using hot water will be more effective to getting that clothing back to its original color.
Dry and repeat if necessary!
Tackle Those Sports Odors Before They Spread!
Your future superstar may bring home some big time smells! Leave those sports gear odors out by simply using less detergent and adding a half a cup of white vinegar to your load. This will fight those strong odors. Also, keep the water cold! Using cold water will prevent shrinkage keeping those jersey fresh and smelling fresher.
If you have any questions or need help with your back to school laundry, be sure to seek help from our experts at Laundry Zone! We offer expert wash, dry and fold services so you can conquer your other chores while we handle your laundry. Stop by today, or contact us by calling 215-240-1858.